Boehringer Ingelheim Acquires AMAL Therapeutics, Significantly Enriching Its Cancer Immunology Portfolio with Novel Cancer Vaccines Platform
Ingelheim am Rhein, Germany and Geneva, Switzerland – 15 July 2019 – Boehringer Ingelheim today announced its acquisition of all shares of AMAL Therapeutics SA, a private Swiss biotechnology company focused on cancer immunotherapy and advancing first-in-class therapeutic cancer vaccines derived from its technology platform KISIMA. AMAL's lead vaccine ATP128 is currently developed for stage IV colorectal cancer and is slated to begin first-in-human trials later this month. Boehringer Ingelheim plans to develop new therapies by combining assets from its cancer immunology portfolio with AMAL's proprietary KISIMA immunization platform.

View PDF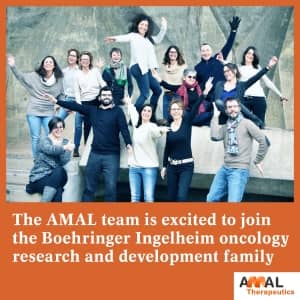 AMAL Therapeutics enters clinical collaboration with Boehringer Ingelheim to evaluate ...
AMAL Therapeutics SA announces the appointment of Dr Thomas Bogenrieder ...
Share this entry